Pet Photography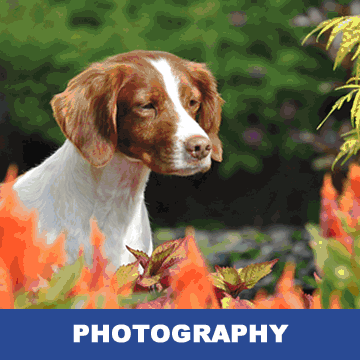 Can you do a photo shoot for a Pet Portrait?
Yes I can. I prefer to do natural setting, not a studio. I do charge travel and time to come to you. For photos at an event, before or after normally I do not charge a sitting, just a per use item fee.
How do I order ring side photos?
Just send me the number on the posted photo and I will upload them for purchase. Please let me know if you are looking for high res or standard web resolution. A CD or DVD may also be ordered.
Do you do Agility photos?
Yes I do. I love to shoot Agility Trials. I will only do a club's photos when we are listed in the premium and no more than one other photographer has been hired. Check out
Facebook
for some of our Agility Photos.
Can I hire you for an event?
Contact me by phone or email to discuss your needs and my availability. Specialties or Agility Shows only.
How Long are proofs are posted?
Normally one year.
Where can I view your photos?
Photos are posted on our facebook page. They are numbered, but these are normally just a very small group of what were shot...if you are looking for a specific dog from an event, email us and we will send you the grouping of that dog. Small jpegs will be sent. To use even on FB or your website, you must purchase.
Who owns the copyright?
Copyrights are filed for each event. The copyright is assigned to Christine Ward-Weber and Cimmaron LLC. When a photo is purchased I will provide you a useage agreement, allowing you to use as you wish. You may not re-sell the photo to be released as a product, i.e. remarketed as a print for public sale except as a breed promotion when used by a club. All images are © by Cimmaron LLC for any additional usage unless a full release is agreed to prior to purchase. A CD/DVD can be ordered in additional formats.
To contact me, Use the email link below
To contact me, check my schedule, or have a question,
email Cimmaron Dog Art
clicking here.