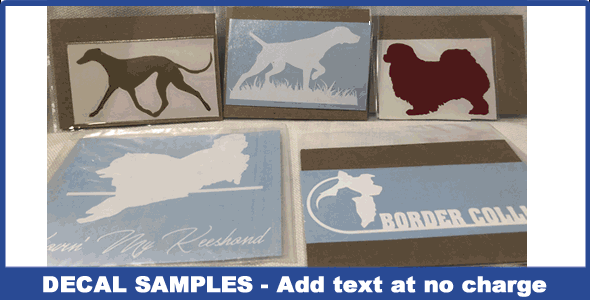 Below are the products ideas for all breed, specialty breeds and field trial event. We can customize for a small fee or even use your club logo.
Decals can be used for:
• Kennel buckets
• Glazed ceramic mugs
• Water bottles
• Mail boxes
• Flat smooth surfaces (not wood)
Our decals can be hand washed, and are fine in the dishwasher. Scrapers will damage outside window decals. Decals with club logos make for great club fund raisers.
When ordering clubs, discounted rates for large quantities, as well as additional colors including glitter. Just buy your own mugs, water bottles or buckets and the decals ship for free.
Our metal products are made from USA steel cold rolled 14 gage and is powder coated EXCEPT for when we note the steels is raw, ie bottle openers.
• Metal items can be custom cut at no additional charge for club orders
• Leash racks-holders in two sizes, 12 or 18 inch widths
• Single hooks with paw prints - 3 inches wide (no minimum)
• Single hook breed silhouettes (6 pc minimum for breed silhouette)
• Welcome signs (10 inch and 18 inch)
• Custom award plaques about 8 inches
• Ornaments (6 pc min) About 6 inches wide with hanging hole
• Paw print bottle openers/key rings - 2 1/2 circle no coated
• Mailbox and Grooming arm toppers 8 inches wide
If you still don't see what you are looking for... email us here .Let us see what we can do for you.
Tell us what you need, we will get you a quote. When possible we will help you find a way. Need something special or do not see it offered just ask.... send me a request.
Some suggestions and individual items for club offerings below.