Dog Breed Logos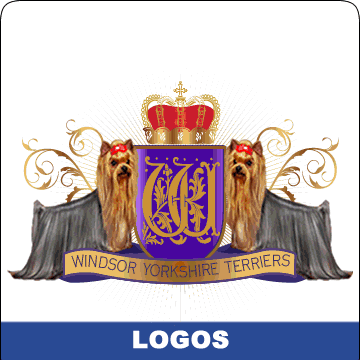 What kind of logo do you need?
Logos can be developed a few ways...as line art (which is ideal for digitizing and more controlled printing), or as an illustration,or you can combine the styles (combining an illustration with a photo and text).
Normally I need 2 weeks (depending on current work load) if it is done as a line drawing, if it is a combination of illustration and text I need three weeks. If you have photo of what you are looking for that helps me envision what you might be looking for.
How do I approve the logo?
A jpeg of the artwork will be emailed to you for approval before your item is shipped. We will provide you with a few formats so you will be ready to roll out your new look. If you need business cards, we can do that too. I will forward your final design to Vista Print for printing, shipping directly to your door.
Can I make changes?
Absolutely. That's why we send a proof. We want you to be happy with the finished art. Three adjustments may be made at no charge. Sometime we need to make a minor adjustment, since sometimes a photo misses a little feature that makes them yours. Adjustments after the third one will be charged back at fifty dollars per hour.
How is my art shipped to me?
Shipped as a Tumb drive sent by US mail, with a use agreement allowing you to reproduce the logo as you need.
How expensive is this?
If you just need a clean version of a current logo, normally about fifty dollars. For a new logo call to discuss as every job is different. Pricing for breeder logos start at 150-200 dollars for simple line art and goes to 200 up to 350 US dollar for image logos.
A 100.00 dollar deposit is due before we can start.
See
HERE
for payment link.
Who owns the copyright?
When the artwork is done as a custom item for an individual, club or kennel, the copyright is normally assigned to both you and Cimmaron LLC with a full usage agreement assigned to you for use only as developed, for a sign, just for the sign, if for your logo i.e. logo allowed as logo only used by you, if designed for mugs, use only allowed as mug. If you are looking for a full release, this needs to be agreed to
prior
development at a more inclusive price. A tumb drive will be provided to you with your finished logo in several printable and web formats. Without a full release you may not use the logo to sell mug, t-shirts, etc without a full release.
send me a request.
When all else fails or you have question, just
email Cimmaron Dog Art
by clicking here.